[1st Attempt] [Carbon Skeeter] [Kolibri] [LeTTO] [Mala Bdzhola I]
[Micro IFO] [Micro Kolibri] [Minor] [Trenton Terror] [Kits]
---
This is my attempt at shrinking Dan Kreigh's very popular IFO design. The model is scaled down version of his second generation IFO design and has a 40cm (16in) span. I have had a chance to meet Dan and watch him fly the IFO, it is quite a show.
Plane characteristics
Radio and motor
Wing span: 40cm (16in)
Component
Type
Wt (g)
Wing area: 8.1sq.dm (126sq.in)
Rx
SkyHooks&Rigging 4 ch
2.7
Wing loading: 5.3g/sq.cm (1.7oz/sq.ft)
Servos
2 @ WES LS-24
2x2.9
Control: 3 channels (elevons and throttle)
ESC
Pixie-Lite
1.5
Materials: carbon, balsa, Renolds Wrap
Battery
4 or 5-cell 50mAh NiCd
14.8/18.5
Ready to fly weight: 42.3g (1.5oz) (desired)
Propulsion
??
??
Total wt
??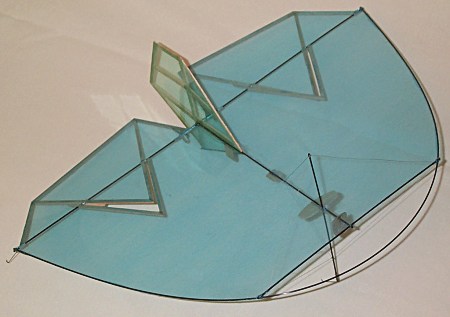 Micro IFO, 16 inch span IFO MK 2.
(There are more images of my Micro IFO in the Photo Gallery.)
Construction details:
The Micro IFO was more or less built as per the instructions for the IFO MK 2 except for a few minor changes. I did not have plastic tubes handy that were small enough for the elevon attachment areas, so I substituted aluminum tubes. I also substituted a skid for the wheel on the landing gear leg. Other than that and using smaller diameter carbon rods I just followed the instructions.
Flight characteristics:
I originally planned to use the KP00 motor with this plane, but it turned out that it did not have enough power to fly it. My plans now (whenever I get some free time) are to use a WES Technik DC5-2.4 motor geared 5:1 with a 5 cell pack to see if that will fly it. I may also build a new Micro IFO based on the current MK 3 design, since it has an all carbon frame which should hold up better then the partial balsa one.
---
[1st Attempt] [Carbon Skeeter] [Kolibri] [LeTTO] [Mala Bdzhola I]
[Micro IFO] [Micro Kolibri] [Minor] [Trenton Terror] [Kits]
---
© 2001-2004, Matthew J Litke